Description
iiamo warm3 – the BOTTLE WARMER you need
With iiamo warm3 you get a beautiful BOTTLE WARMER unlike any other you've ever seen before.
easy handling
a fully charged heating station works as a power bank with enough power for 3 bottle warmings
the bottle warmer takes up very little space in your kitchen, in your bag or next to your bed
bring the bottle warmer when you're on the go. Or how about keeping it next to your bed for warm bottles late at night?
Of course the iiamo baby bottle can also be used as a classic baby bottle.
Here are your 3 short steps to a warm bottle of milk – wherever and whenever:
insert the heating cone, fill the bottle, place it on the heating station and push "ON".
Your feed will be ready in just 4 minutes.
Here's how it works:
3 short steps to a warm bottle of milk: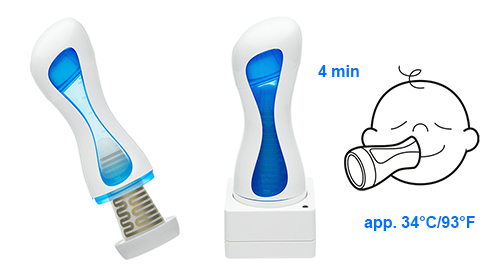 1. Insert the heating cone with the heating element into the baby bottle and fill the bottle (170-180 ml/6 oz).
2. Place the bottle on the heating station. Push "ON" to start. A green light indicator shows you the heating progress.
3. After only 4 minutes the bottle feed is ready. Turn the bottle upside down a few times to distribute the heat evenly.
NOTE:
– Feel free to remove the bottle from the heating station at any time.
– Always check the temperature of the feed before feeding your baby.