Warm baby milk on the go with a self-heating baby bottle
Surely you've experienced this: You and your little one are out and about, home is only ½ hour away but she insists loudly on her bottle of milk – NOW!
A "milk-down" like that is something you want to avoid. So much that it sometimes even controls how you plan your day. You see to it, that you leave home just after your baby has been fed. And you make sure that you are home before the next bottle of milk is due.
This is exactly why we invented the self-heating baby bottle, iiamo go. We love outdoor activities – and of course we want to bring our babies too. What we don't want though, is to worry about where or how to warm the next bottle of milk.
iiamo go opens up to that world of less planning and more adventures.
SELF-HEATING? You may ask how this works. It's really easy:
Off you go! Don't forget your iiamo go baby bottle and a few disposable iiamo warm heating cartridges.
Your little one is hungry? Just insert an iiamo warm heating cartridge into the heating chamber of your bottle. Then turn the trigger all the way and shake the bottle to activate the heating function.
Wait 4 minutes; occasionally shaking gently to make sure the heat is distributed evenly in the milk. Don't forget to check the temperature before feeding your baby. Now your warmed feed is ready!
For this idea iiamo go was awarded with several awards.
Warm a baby bottle – anywhere!
It was never easier for you and your baby to enjoy a whole day together outside. You'll see. Where would you go first: to the zoo, on a hike or with the bus to visit your best friend? We've been told that the self-heating functionality is also highly appreciated in the middle of the night. You can feed without leaving your bed if you just really, really need the rest.
Good to know: iiamo go comes with an extra flat bottom. This turns it into a conventional feeding bottle. Use it at home or whenever you don't need the self-warming function.
By the way, we are proud to say that Karim Rashid has designed all iiamo products. He's a father himself. He's also a renown industry designer, who has worked for major brands like Prada, Sony and Armani.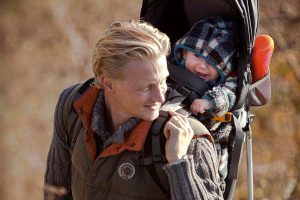 Buy the iiamo go bottle together with a pack of iiamo warm heating cartridges – or choose one of our promotion packs:
The
iiamo STARTER SET
includes
:
an iiamo go selfwarming baby bottle togehter with a pack ot the iiamo warm heating cartridges
an iiamo home classic baby bottle in the same happy design
and the drinking spout, iiamo drink. This turns your baby bottle into drinking bottle for sports or kindergarten.
The
iiamo Economy Pack
includes:
an iiamo go self-warming baby bottle together with two packs iiamo warm heating cartridges
an iiamo drink drinking spout. Now your baby bottle can live a long, happy life as drinking bottle.